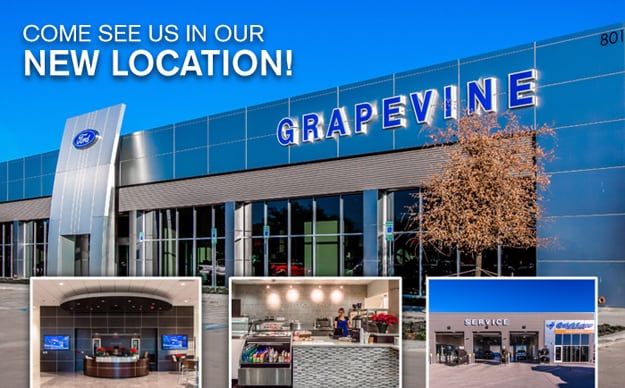 Grapevine Ford, we are here to serve not just Grapevine, Dallas and Ft Worth but, North Richland Hills, Southlake, Carrollton, Keller, Colleyville, Lewisville, Irving, Arlington, Trophy Club, and the rest of the greater Dallas and Ft Worth area.

Located only a mile north of DFW airport please feel free to park your vehicle for service while on vacation or business trip.  Major services or oil changes welcome we use Ford factory parts(OEM).  

We would be happy to help you in person or online.  We would like to give the potential Ford buyer all of the information necessary to make a great buying decision.  

We offer not just great deals on a new Ford, but, service, parts, used cars, and certified ford used cars

We offer financing option through many lenders and deal with prime and sub prime credit standings

We have highly skilled technicians that are Ford certified .  We offer oil changes, brake jobs, sync activations, sync upgrades, struts, shocks, preventative maintenance and much more.   We keep a large inventory of accessories and OEM parts in stock.


Hear What Our Customers Have to Say
"Service"

I have had three occasions to experience Grapevine Ford's Service excellence. The first was with a defective part, which I cannot recall at the moment. In which the replacement was done very swiftly, and I had complete confidence with all staff invovled with me. Second, I called to ask a question regarding the replacement of signal indicator bulbs. The question was answered completely and concisely and I have praised your service department for fielding my question with outstanding professionalism, as my question would have been considered very simplistic and out of the call of duty. The answer saved me spending alot of time and money, as the parts cost less than $5.00. Hurray for your team! Lastly. I visited with a 'Check Engine' sensor light. The service agent was respectful and although I required a replacement of my alternator, acknowledged my grief at the expense and took great care of me. I would like to add, that on the last visit, I had just returned from a 5400 mile vacation. Bugs and dirt all over the car. Your crew washed and cleaned the car and it was sparkling. Hip Hip Hooray! Cheers to your Team!

Inez S.,07/24/2010
"Sales - 2010 Ford F-150"

Once again our purchasing experience was excellent! If it wasn't, why else would my wife and I purchase three 2010 Fords from Grapevine Ford in less then 2 months time! (Mustang GT, Focus and F-150). Great sale process and great total experience! Thanks!

Robert W.,07/23/2010
"Sales - 2006 Ford F-150"

My dealer Curtis Harvey was very helpful in the overall experience in buying a vehicle and Ben in the finance dept. And the rest of the guys did a great job in helping me get a warranty at a very decent rate. I had a great experience at grapevine ford and will recommend it to everyone.

Nathan M.,07/22/2010
"Service"

Awesome service from Jeff. Timely and responsive to my needs.

John B.,07/22/2010
"Service"

This was my first visit to your dealership and it was a very good experience. Service manager was very friendly and service done in a timely manner. I was certainly surprised when I got to my truck and it had been washed, have never had any other dealership do that. Thank you for a wonderful experience!

B. Sawyer,07/19/2010
"Sales - 2010 Ford Escape"

We believe the Grapevine Ford dealership is very professional and well run. The attention to detail is wonderful. The finance and sales departments were friendly and accommodating. The real plus is the Ford Escape XLT. This vehicle offers it all - good gas mileage and plenty of extras for comfort and safety. Would I recommend Grapevine Ford - yes! Ken Nguyen was wonderful, sincere, and professional and at no time intimidating. Rene and Skip really helped put a package together that we can afford. We plan to keep our Escape XLT for a long time and look forward to working with Aaron in the Service Department.

Sherrill S.,07/08/2010
"Sales - 2010 Ford Fusion"

Awesome group of people to work with! I had so much anxiety about buying a new car and got so much run around from other dealerships that I went to. Troy, my salesperson, was excellent, and the finance team went above and beyond to get me the best financing for my situation. I will definitely purchase from Grapevine Ford in the future and will recommend you to anyone I know looking to buy a car.


Paige B.,07/07/2010
"Service"

Really appreciated the Shuttle...so helpful for someon who lives alone. Great friendly service from Kevin and the shuttle driver Greg Fritz was terriffic.

Charlie H.,07/07/2010
"Sales - 2010 Ford Fusion"

All personnel were extremely courteous and helpful in my car shopping experience. Shawn Baker went out of his way to try to get me exactly what I was looking for. Tracy was also very helpful the finance part. She explained everything in an understandable way. I will recommend your dealership to my friends when they are in the market for a vehicle. THANK YOU FOR ALL YOUR HELP!!!

Karen B.,07/01/2010
"Sales"

Cameron, our sales person, was very professional and met all of our expectations. He was very good at explaining the elements of the deal and was very good overall. Brian did an excellent job of preparing the paperwork, explaining the extended warranties, etc. Overall, the deal was great and all of the people we met at the dealership were friendly, courteous, and knowledgeable. We will look forward to purchasing vehicles from you in the future. Even though we have to drive approx. 700 miles, it is well worth it. 


Sales
"Service"

Service has improved 1000% since 2007. Finally doing something right...taking care of the customer. Great job to whoever grabbed the bull by the horns and fixed what was once a horrible service department. 


Mark Kisner